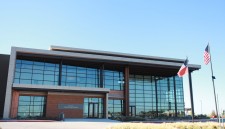 National coffee roaster achieves sustainability certification for its headquarters
NORTHLAKE, Texas, September 5, 2018 (Newswire.com) - Farmer Bros. Co. (NASDAQ: FARM) ("Farmer Brothers" or the "Company"), a national coffee roaster, wholesaler and distributor of coffee, tea and culinary products, today announced that it has been awarded LEED Silver certification for its recently completed headquarter office project in Northlake, Texas.
The LEED (Leadership in Energy and Environmental Design) rating system, developed by the U.S. Green Building Council (USGBC), is the foremost program for recognizing best-in-class building strategies and practices in green building. "LEED is a transformative tool that ensures a building is designed and operating to achieve high performance in key areas of human and environmental health while enhancing the triple bottom line - people, planet and profit," said Mahesh Ramanujam, president and CEO, USGBC. "By prioritizing sustainability, Farmer Brothers Headquarters Office project is leading the way in their industry and helping USGBC continue toward our vision of a sustainably built environment within a generation."
The project, completed in December 2017, features 85,663-square-feet of office space spread over two floors and connected to the roasting plant and distribution center. The HQ consists of various types of offices, meeting spaces, open collaboration areas, and laboratories, as well as a café and fitness center for staff.
The building achieved significant energy savings through its use of all-LED light fixtures, efficient HVAC design, reflective roof, and insulated building envelope, contributing to a 22.8% reduction in energy costs for this building when compared to a standard building of this type and size.
"Sustainability is a core business principle for Farmer Brothers," commented Molly Laverty, Director of Sustainability. "Achieving LEED Silver certification illustrates to our customers and business partners that they can rely on Farmer Brothers for innovative and sustainable business practices."
Project partners include: Entegrity, LEED consultants; Faithful + Gould, owner's representative; EMJ Corporation, general contractor; RGA Architects, building shell architect; Gensler, interior architect; Telios, MEP engineer; Pacheco Koch, civil engineer; and Belle Firma, landscape designer.
About Farmer Brothers
Founded in 1912, Farmer Bros. Co. is a national coffee roaster, wholesaler and distributor of coffee, tea and culinary products. The Company's product lines include organic, direct trade and sustainably produced coffee. With a robust line of coffee, hot and iced teas, cappuccino mixes, spices, and baking/biscuit mixes, the Company delivers extensive beverage planning services and culinary products to its U.S.-based customers. The Company serves a wide variety of customers, from small independent restaurants and foodservice operators to large institutional buyers like restaurant and convenience store chains, hotels, casinos, hospitals, and gourmet coffee houses, as well as grocery chains with private brand coffee and consumer-facing branded coffee and tea products.
Headquartered in Northlake, Texas, Farmer Bros. Co. generated net sales of over $540 million in fiscal 2017 and has approximately 1,600 employees nationwide. The Company's primary brands include Farmer Brothers®, Artisan Collection by Farmer Brothers™, Superior®, Metropolitan™, Cain's™, McGarvey®, China Mist®, Boyds® and West Coast Coffee.
Investor Contact:
David Robson
(682) 549-6663
Media Contact:
Brooke Johnston
Champion Management
(972) 930-9933
Source: Farmer Bros. Co.
Share: