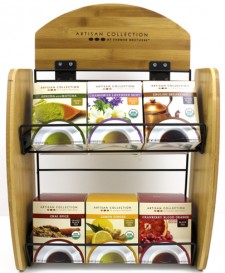 Seven specialty tea blends added to its Artisan Collection of sustainably produced coffee
NORTHLAKE, Texas, October 9, 2017 (Newswire.com) - Farmer Bros. Co. (NASDAQ: FARM) ("Farmer Brothers" or the "Company"), a national coffee roaster, wholesaler and distributor of coffee, tea and culinary products, announced the release of its new Artisan Collection Specialty Hot Teas.
Launched as part of the five year anniversary of the Artisan Collection of specialty coffee, the line of hot teas is a natural extension to the sustainably produced blends of coffee. The teas feature seven specialty blends, using large leaf tea in pyramid-style sachets. Five of the seven blends are certified organic.
"From the pyramid sachets to the signature blends, the Artisan Collection hot teas are positioned to appeal to today's consumers," said Gerard Bastiaanse, SVP of Marketing. "This collection is sustainably produced and features organic blends, so it is a great complement to the Artisan Collection coffees."
Artisan Collection Hot Teas incorporate on-trend flavors that include five organic teas:
Organic English Breakfast Black Tea
Organic Chai Spice Black Tea (2017 Global Tea Championship winner)
Organic Chamomile Lavender Mint Herbal Tea (2017 Global Tea Championship winner)
Organic Hibiscus Ginger Orange Herbal Tea
Organic Lemon Ginger Green Tea
Cranberry Blood Orange Black Tea
Sencha with Matcha Green Tea
For more information about Farmer Brothers and its Artisan Collection coffee, teas and cold brew filter packs, visit farmerbros.com.
About Farmer Bros. Co.

Founded in 1912, Farmer Bros. Co. is a national coffee roaster, wholesaler and distributor of coffee, tea and culinary products. The Company's product lines include organic, Direct Trade and sustainably produced coffee. With a robust line of coffee, hot and iced teas, cappuccino mixes, spices, and baking/biscuit mixes, the Company delivers extensive beverage planning services and culinary products to its U.S.-based customers. The Company serves a wide variety of customers, from small independent restaurants and food service operators to large institutional buyers like restaurant and convenience store chains, hotels, casinos, hospitals, and gourmet coffee houses, as well as grocery chains with private brand coffee and consumer-facing branded coffee and tea products.
Headquartered in Northlake, Texas, Farmer Bros. Co. generated net sales of over $500 million in fiscal 2016 and has approximately 1,600 employees nationwide. The Company's primary brands include Farmer Brothers®, Artisan Collection by Farmer Brothers™, Superior®, Metropolitan™, Cain's™, McGarvey® and China Mist®.
PR Contact: Ladd Biro, Champion Management
972.930.9933
lbiro@championmgt.com
Source: Farmer Brothers
Share: