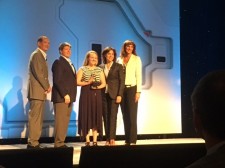 Northlake, TX, September 6, 2017 (Newswire.com) - ​Farmer Bros. Co. (NASDAQ: FARM) ("Farmer Brothers" or the "Company") a national coffee roaster, wholesaler and distributor of coffee, tea and culinary products announced today that it has been awarded McDonald's 2017 U.S.A. Supplier Sustainability Award.
This award recognizes suppliers that incorporate the 3 "E's" of Ethics, Environment and Economics into their business. The winner incorporates sustainability goals into their business, tracks performance, shares their story and sets expectations within the supply chain and their company.
"We are honored to receive this award. Sustainability is a core value at Farmer Brothers and central to our business practice," stated Mike Keown, CEO of Farmer Brothers.
Molly Laverty, Sustainability Director for Farmer Brothers, accepted the award on behalf of the Company. "Partnering with customers like McDonald's in sourcing coffee sustainably helps strengthen coffee-growing communities and advances coffee as a sustainable agricultural product," commented Molly.
Farmer Brothers new LEED® Silver Certified headquarters facility and company commitment to Science Based Targets Initiative (SBTi) contributed to the company earning the award. The Company's sustainability program also includes collaborations with the Committee on Sustainability Assessment, Conservation International as a member of the Sustainable Coffee Challenge, World Coffee Research and other partners in the coffee industry. Through partnerships with customers like McDonald's the Company is working to advance sustainability within the coffee industry.
About Farmer Bros. Co.
Founded in 1912, Farmer Bros. Co. is a national coffee roaster, wholesaler and distributor of coffee, tea and culinary products. Our product lines include organic, Direct Trade and sustainably-produced coffee. With a robust line of coffee, hot and iced teas, cappuccino mixes, spices, and baking/biscuit mixes, the Company delivers extensive beverage planning services and culinary products to its U.S.-based customers. The Company is a direct distributor of coffee to restaurants, hotels, casinos, offices, quick service restaurants, convenience stores, healthcare facilities and other foodservice providers, as well as private brand retailers.
Headquartered in Northlake, Texas, Farmer Bros. Co. generated net sales of over $500 million in fiscal 2016 and has approximately 1,600 employees nationwide. The Company's primary brands include Farmer Brothers®, Artisan Collection by Farmer Brothers™, Superior®, Metropolitan™, Cain's™, McGarvey® and China Mist®.
Forward-looking Statements
Certain statements in this press release constitute "forward-looking statements." When used in this press release, the words "will," "expects," "anticipates," "estimates" and "believes," and similar expressions and statements that are made in the future tense or refer to future events or developments, are intended to identify such forward-looking statements. Such forward-looking statements are subject to risks, uncertainties and other factors that could cause the actual results, performance or achievements to be materially different from any future results, performance or achievements expressed or implied by such forward-looking statements.
Media Contact
Ladd Biro, Champion Management
972.930.9933; lbiro@championmgt.com
Source: Farmer Brothers
Share: